We've all been there, making last-minute, poor outfit choices while getting ready for a job interview with that company you've been keeping your eyes on.
While what you're wearing shouldn't decide whether or not you're suitable for the job, it sure doesn't hurt to make an excellent first impression using a well thought out outfit. So, what are the best styles and dress shirts to wear to a job interview? Funny you should ask, we've got the tips you need right here. First off, it depends on the type of dress code the company you're meeting with have. What works with a casual startup wouldn't fly at a law firm, for example. Overall, your outfit should be, of course, clean and well thought through.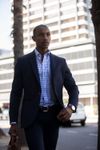 How to dress for a professional/business interview
Generally, these types of interviews tend to be more formal, so you'll want to go for full-on business attire. Opt for a sleek suit in a calm, soothing color along with a crisp, well-fitted white dress shirt. The white dress shirt conveys simplicity and works well underneath a suit as well as on its own.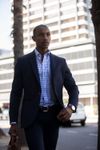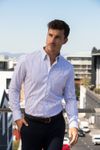 How to dress for a Non-professional/Business casual interview
Business-casual is one step down from formal or business, but not your average casual outfit in that sense that it's still a very polished look. A dress shirt in a pleasant pattern, such as checkered, works well in a business-casual outfit. A pair of dark chinos give off a professional vibe without making you look over-dressed.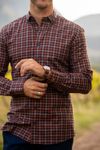 How to dress for a casual interview interview
If the company has more of a relaxed approach when it comes to outfits, skip the full-on business attire. A pair of dark jeans along with a soft, perfectly fitted dress shirt in gray or light blue never fails to give off a casual vibe without looking sloppy. Keep in mind that just because it's a casual dress code doesn't mean you should show up under-dressed, and it's always in your favor to dress professionally for any given interview.
Job interview outfits to avoid
Are there some outfits you generally should avoid for a job interview? Well, there are some guidelines we'd recommend you to follow. A good tip is to avoid using colors that are too flashy or distracting and instead opting for calm, neutral tones in your job interview outfit. Avoid flip-flops (should we even have to say it?) and other shoes that don't feel appropriate for the occasion. Even if it's a hot summer day, you should try to avoid wearing shorts for your job interview, as it may risk giving off an unprofessional vibe.
Mind the fit
As always, you should make sure every part of your outfit looks as well-dressed as possible. A baggy, unfitted dress shirt can easily ruing your whole outfit and, in the worst case, make you look unprofessional. Making sure that your suit, dress shirt, and chinos fit just right is necessary to nail your job interview outfit. Keep it custom-tailored throughout, and you don't have to worry about wrinkles, baggy arms, or excessive fabric ever again.
---