The key elements of business casual dress code
There are some guidelines out there to efficiently ensure that you're on the right path when dressing business casual. Here are some great tips:
Dress up rather than dress down, always. If you're unsure whether or not your outfit is business casual, you can always add something more formal to be on the safe side.
Be consistent. Don't show up on casual Fridays at the office wearing a rugged-down outfit when you've maintained a business casual style throughout the week. Some slight alterations to your outfit make it suitable for more relaxed events as well; a pair of well-fitting chinos along with a polo shirt is a great option.
Don't overdo it. Dressing business casual doesn't have to be a hassle, and you shouldn't have to renew your entire wardrobe. Think smart. Putting a blazer on a clean T-shirt along with a pair of classic jeans is often a great and easy way of achieving the business casual look.
What to avoid when dressing business casual
As with any other dress code, there are do's and don'ts when dressing business casual. Let's run through what you should avoid if you're looking to ace the business casual style:
Casual shoes such as overly worn (in other words - dirty) sneakers or flip-flops.
Stained or wrinkled clothing or clothing with holes (distressed jeans and business casual is a no-go).
Poorly fitting clothing, both too big or too tight. The solution? Secure a superior business casual style with a custom-tailored dress shirt.
Shorts, tank tops, or strapless shirts. You're not at the beach.
Are jeans business casual?
Generally, yes, they are. Although there are also instances when jeans would not go under the term business casual. It boils down to what type of job and work environment you find yourself in. Different industries have different expectations of what their employees should wear. Ask yourself: "Do jeans meet my workplace style expectations, and can I style them to match the expectations?" If the answer is Yes, then go ahead! Not sure? Pay attention to how your coworkers dress; you can tell a lot by that. As times are changing, so does the view on acceptable dress codes for work. Most workplaces will be just fine with you wearing jeans as part of your business casual outfit; just make sure that they're nice and clean before showing up.
The difference between business casual and smart casual
Is smart casual the same as business casual? Well, not exactly. Smart casual is usually a less formal style than business casual. While business casual mainly refers to office outfits, smart casual is for everything in between. Smart casual equals plain T-shirts in toned-down shades; avoid anything printed that is more casual.
Business casual outfit ideas for men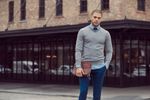 Adding a sweater on top of your dress shirt is an excellent way of achieving the business casual style. Style it with a business casual shirt for a complete look.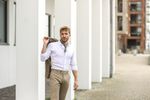 Linen shirts are the perfect mixture of casual and business. Style with rolled-up sleeves and a pair of suit pants for a perfect business casual outfit.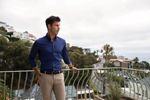 Blue is a reoccurring color in business-related styles, and it works just as well for business casual styles. Pair with chinos in a lighter color for a sleek finish.