Two heads are better than one, they say. We say three heads are better than two, and our Director Shiroma knows all about it. 17 years ago, she came into Tailor Store, helping out our two founders with production- and quality-related issues and has been with us ever since. Let's get to know her more, shall we?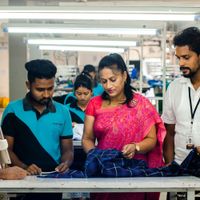 Shiroma
Role in the company: Director
Years at Tailor Store: 17
Hi, Shiroma! How did you start your journey at Tailor Store?
I worked as a teacher at Humbuluwa Central College when my husband Nalin and Magnus founded Tailor Store back in 2003. Early on, there were some big production- and quality issues that needed solving as fast as possible, so I quit my job as a teacher to solve these issues. Afterward, I stuck around, and here I am, 17 years later, as Director for Tailor Store Sri Lanka.
Walk us through some of your daily tasks, will you?
I start my workdays by evaluating the daily production overview to make sure everything looks right. This task also includes making strategic decisions that are production-related while identifying quality problems in daily production in Maho and Alawwa. I'm always available to all departments in the production if any questions need my advising. I also work closely with our finance department in providing directions in related financial matters.
What's that one job task that you hold particularly close to heart?
That would be the work I do alongside our Human resources department regarding our employee welfare and CSR-related projects. I also love solving quality issues with other operators and supervisors in production, directly impacting customer satisfaction.
What do you appreciate most about working at Tailor Store?
The friendliness between all employees, no matter the title or years at the company; we welcome everybody here. I also appreciate that we strive to empower the local society by hiring local people and maintaining a circular economy by donating or selling fabric waste for the locals to use in their businesses.
What daily challenges to you face in your role as director?
It's always hard to make some decisions as I have to keep in mind that they will affect more or less all 500 people who work at different production levels. It can be hard to find a middle ground when making larger, operational decisions that involve both TSS and TSI. Overall having to make more significant decisions that affect many people is no easy task but necessary. I appreciate that we have such strong bonds within the company and between all employees, making these types of decisions easier to make.
---