Meet Nawa, a Tailor Store senior and tailor-guru if there ever was one. For 17 years and counting, he's been a part of Tailor Store's journey and started out as our first tailor. We decided to check in with him and chat about his role at the company, day-to-day tasks, and what the most crucial part of making a dress shirt is.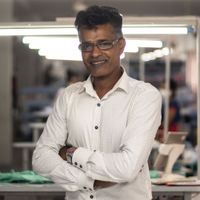 Nawa
Role in company: Line supervisor
Years at Tailor Store: 17 years
Hi Nawa! What are your typical day-to-day tasks at Tailor Store?
My primary tasks mostly consist of supervising the production lines, assisting our QC team with quality-related tasks, and coaching new supervisors.
What's your favorite part of your job?
It would have to be seeing a dress shirt coming together with the expertise of everyone involved in the process and also working together to produce high-quality products we can all be proud of.
Who do you work closely with?
Mostly our production officers, quality supervisor, and the team leaders in Maho.
What do you appreciate the most about working at Tailor Store?
I highly value the communication between all titles and levels in the company. This makes it easy to resolve any issue that may arise during my workdays and creates a nice and transparent working environment as well. As I've been a part of Tailor Store for so long, I think I can say that it's the best work-place for both long time employees and those who just started out. There's a strong community within the company and the company itself really values each and every one of the employees.
What challenges do you face within your role?
Since we only do custom-tailored clothing, there are occasionally situations where we have trouble with producing a certain pattern for a dress shirt. In these cases, we have to improvise and adapt the cutting process to ensure that the overall measurements for the dress shirt stay the same.
How long does it generally take to make a dress shirt and how many dress shirts do you produce a day on average?
The sewing process usually takes a little over one hour, and we normally produce somewhere between 600 to 700 dress shirts a day.
How many stations are there where you work with dress shirts?
We have 26 stations for our regular dress shirts that don't need their seams taped. For our Luxury and Non-Iron dress shirts, we have an additional 15 stations which are dedicated to taping the seams.
Last but not least, what's the most crucial stage of making a dress shirt?
That would definitely have to be the side seam and armhole of the dress shirt, as these are technically difficult areas to master but also vital parts of any dress shirt.
---