There are many different ways to tie a tie, ranging from formal to more casual knots. A well-done tie knot is a perfect companion to both dress shirts and suits. Below, we have displayed the most classic tie knots you need to know that works for all occasions and are easy to learn. Practice makes perfect, make sure to keep doing these tie knots in order to master the technique.
Four-in-hand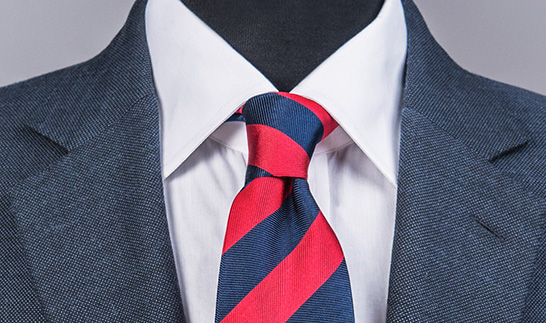 Elegant with attitude is the best description for this long, narrow and very popular tie knot. Tie it preferably with a visible dimple just below the knot to reinforce the self-confident appearance. With its slender look, the four-in-hand knot helps to lengthen the neck portion. The knot is slightly skewed and asymmetrical which makes it an eye-catcher. It is easy to tie and goes well with a little thicker ties. It is a versatile knot that fits nicely to all types of collars except for collars with extreme spreads.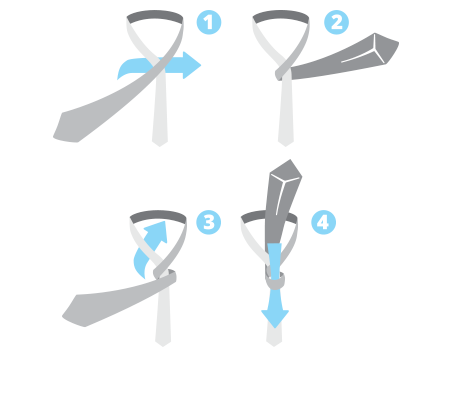 Double four-in-hand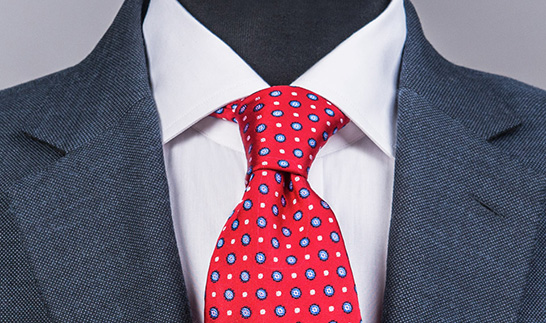 Adding an extra round to the four-in-hand gives the knot greater fullness and volume while retaining its characteristically asymmetric appearance. Whether you decide for a single or double extra is a matter of taste, but it might be a good idea to test a double if the collar has a wider spread such as the cut-away collar for example. Do not forget the importance of the dimple under the tie knot that brings life into the tie. This is achieved easily by tapping the little finger in the middle of the tie while tightening the knot.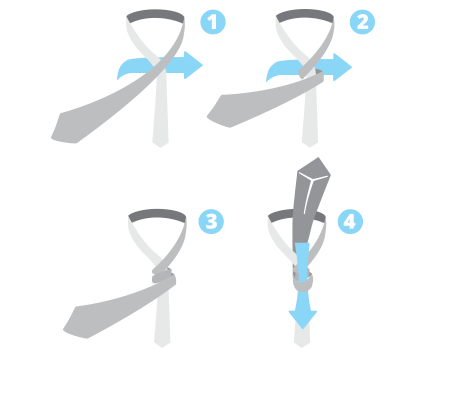 Windsor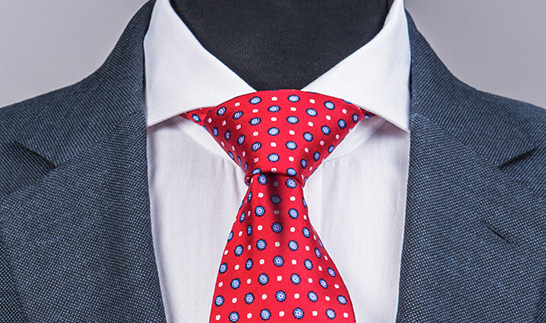 The classic Windsor knot is symmetrical and wide. Neat and great, but perhaps a bit formal and dull with its simple triangle shape. Suitable for collars with more spread such as the cut-away. As the knot takes up a bit more space, it is particularly suited for people with a slightly larger face. Keep in mind that this knot has a wide shape and thus a tendency to make the neck appear shorter. The Windsor knot looks best with somewhat narrower ties.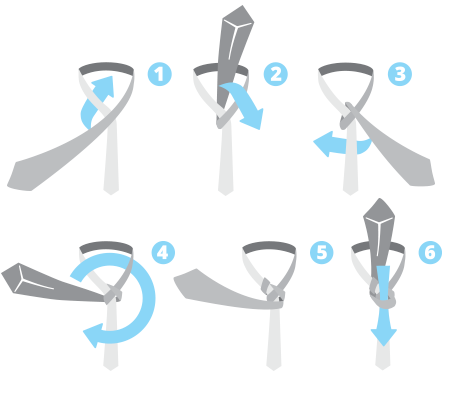 Half Windsor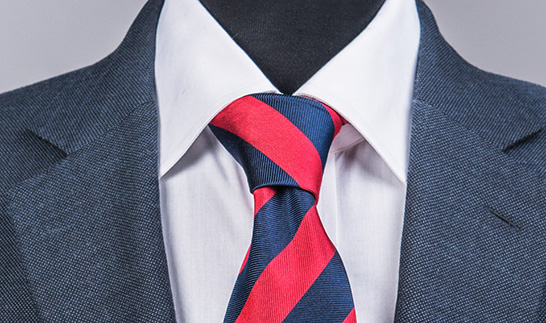 A medium-sized knot that goes with everything. By skipping one loop in the classic Windsor knot, you will get a slightly smaller knot that is still symmetric. This tie knot is very useful and suitable for most collars and tie types. The perfect option for everybody who wants to enhance a look without standing out too much.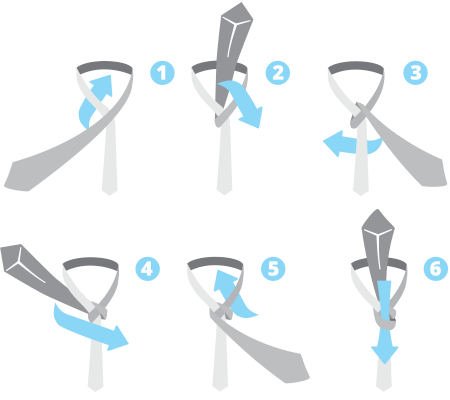 Pratt Shelby knot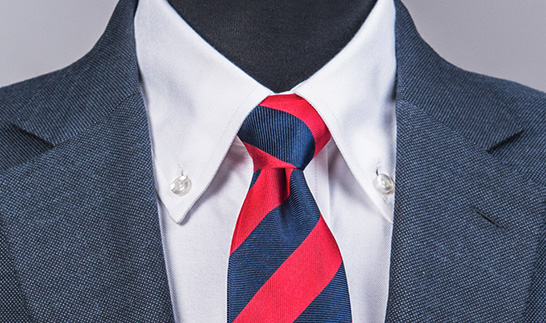 This is a versatile tie knot that resembles a half windsor in its construction. It is medium sized and not as voluminous, and therefore well-suited for the button-down collars, but also fits nicely to a standard business collar or a spread collar. Since the size of this knot is not too exaggerated, it fits well for a person with a smaller or medium sized face. With a Pratt Shelby, the dimple ends up naturally where it is supposed to be right under the knot.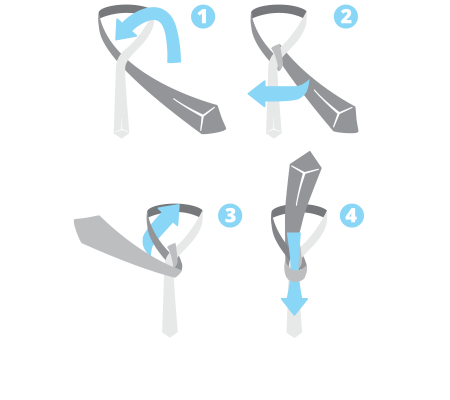 The small knot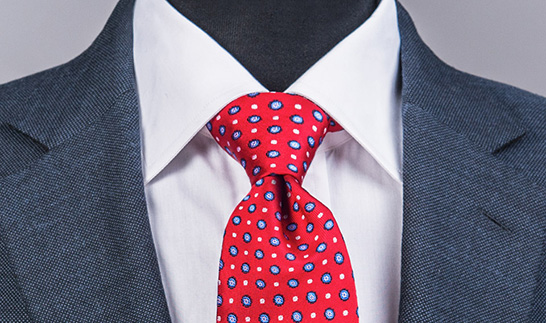 As simple as ingenious. The knot is small and narrow when tightened, but appears fuller when tied somewhat looser. The sleek dimple below the knot comes naturally and gives the knot a special character. Goes well with most collars depending on how hard it is tied.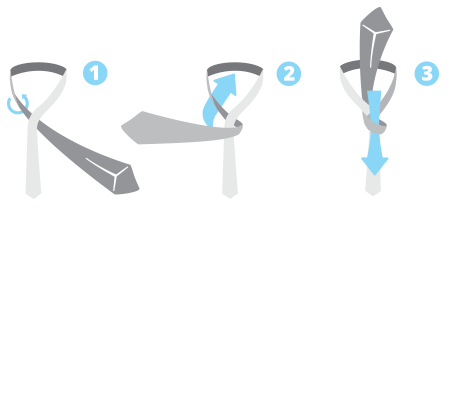 Which tie knot is the most suitable for a wedding?
When choosing tie knot for a wedding it's important to choose one that is elegant, subtle, and formal yet draws attention to it. A well-known known tie knot to wear to a wedding is the classy Windsor Knot. Simple yet attention-worthy and easy to tie makes this knot a great choice for all weddings. Remember that practice makes perfect, if you're going to tie your own tie make sure to practice it before-hand.
Which tie knot is most suitable for a funeral?
There are some do's and dont's when dressing for a funeral in general, and tie knots are no exceptions. Similar to weddings, the Half Windsor knot works well for most funeral outfits which are often dressed up to a certain extent. If you're dressing in heavier material and a wide-spread collar we'd recommend going with a Full Windsor knot.
Which tie knot should you wear for an interview?
Dressing to impress is key when looking to score your dream job, starting with the interview. You'll want to come off as confident while not being cocky, well-dressed while not coming off too strong, you get the deal. A large and symmetric tie knot is to prefer if you really wish to stand out and the Full Windsor knot does a good job doing just that. Although, the Half Windsor knot or the Four-in-hand knot is suitable for an interview as well.
---