We would like to argue that dress shirts should be staples in everyone's wardrobe. They certainly add a classy touch to any outfit, and makes you feel and look effortlessly well-dressed whatever the occasion. Getting them in a tailored fit is an even better experience.
Why dress shirts should be a staple in everyone's wardrobe
Dress shirts are versatile, breathes confidence and has an exclusive quality and feel to them. They're often overlooked and replaced by other clothes not nearly as amazing as a high quality dress shirt. Get inspired and guided by our list below and find the essential dress shirts perfect for your wardrobe.
The list - dress shirts that always makes you look good
Not quite sure which dress shirts to start off with in your wardrobe? We know, it can be tricky figuring out which dress shirts to start out with. The secret to a well balanced dress shirt wardrobe is starting out with a solid foundation using basic colors. We've gone ahead and put together a list of 3 Made to Measure dress shirts for the ultimate dress shirt wardrobe.
The white dress shirt
Let's start off with the basics - everyone needs a white dress shirt in their wardrobe. Especially a white Made to Measure dress shirt, if you ask us. Got a formal event to attend? A classic white dress shirt in an exclusive fabric will make you stand out. You can simply never go wrong owning and wearing a white dress shirt despite what occasion you're dressing for. Yale, in a white twill weave with a subtle and appealing luster is one of our best sellers when it comes to white dress shirt (and we understand why). This is the perfect dress shirt if you prefer a soft and flexible dress shirt, and works just as well for work as for more special occasions. Yale is a medium weight fabric which is perfect as a first dress shirt, since they can be worn all year around. Not too heavy, not too light, just right.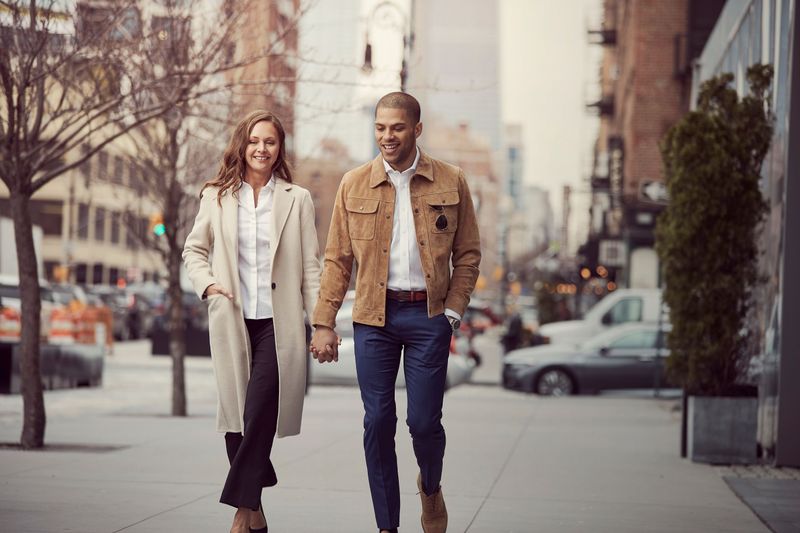 The blue dress shirt
While a blue dress shirt certainly makes for a timeless and classic look, it's also an extremely versatile dress shirt. Pair your blue dress shirt with dark suit pants and a tie for an unbeatable office-ready look. Make it Made to Measure and you'll have a perfect dress shirt for many occasions. Our Bentley dress shirt comes in a beautiful sky blue color, with a somewhat heavier structure that is very soft to the touch. Because of the exclusive feel of the fabric, this dress shirt makes for the ultimate business dress shirt and will most certainly take your outfit to the next level. The light blue shade to the fabric makes for a versatile dress shirt that is easy to style into different looks.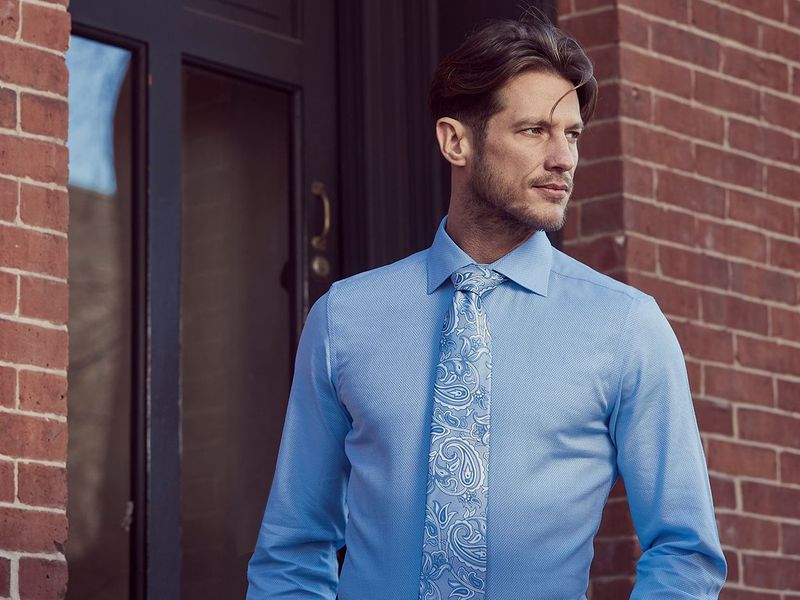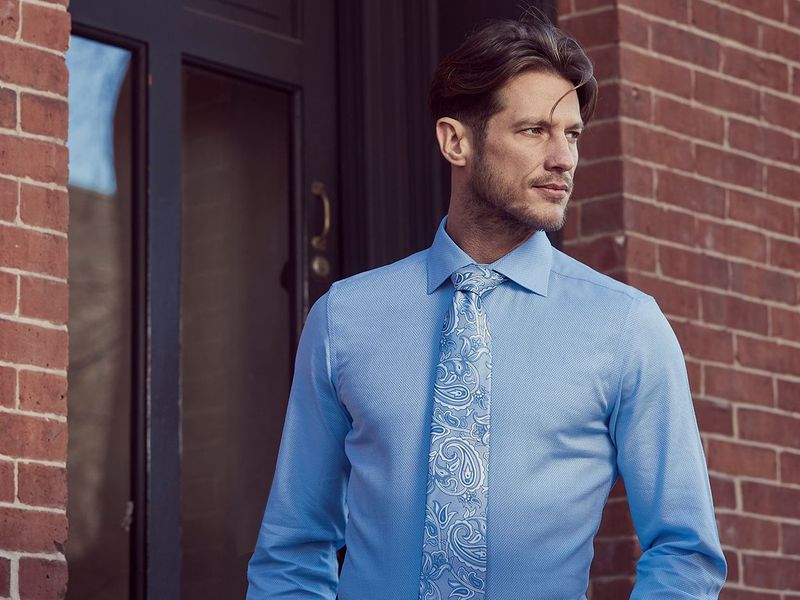 The blue and white striped dress shirt
A blue and white striped dress shirt makes for an impeccable business outfit, and is a must in your wardrobe. The classic blue color paired with stripes is a match made in heaven. The vertical stripes on the dress shirt will enhance your figure in a flattering way. Princeton is one of our most exclusive dress shirts, with appealing stripes in light blue and white herringbone weave. The subtle stripes makes this dress shirt extremely versatile and is the perfect blue striped dress shirt to start off with.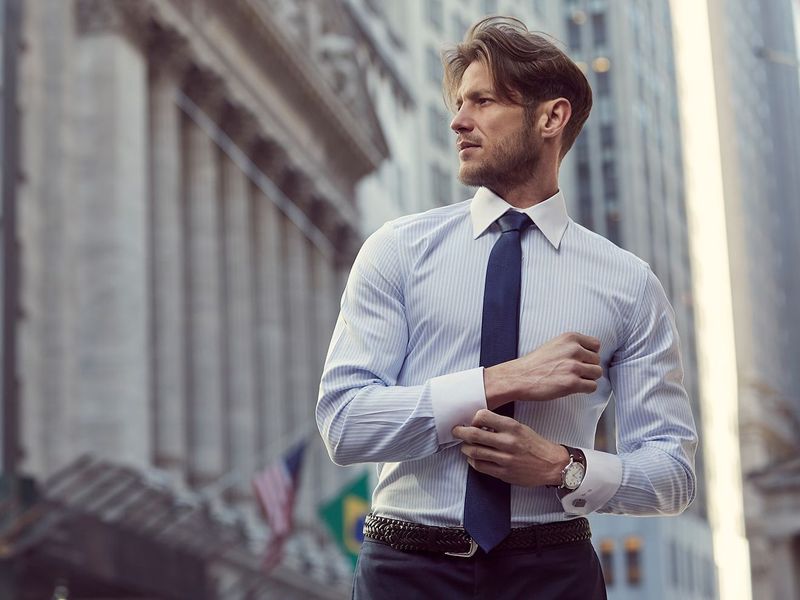 Why these three dress shirts?
Of course there are plenty of variations of dress shirts out there, most likely more than would be able to fit into this guide. That's why we've summed up three essential dress shirts that are great to start out with. Building a great dress shirt wardrobe starts with a good and solid foundation, and that's exactly what these dress shirts creates.
Should you wear your dress shirts tucked in or untucked?
This depends on what type of dress shirt you're wearing. Is it meant to be tucked in? Or should you leave it untucked? Some people would argue that tucked in dress shirts is more of a rule than an exception. However, an untucked dress shirt is not a bad thing, as long as you do it right.
Which collar works the best?
Choosing the right collar for your dress shirt can be tricky. At Tailor Store you can choose exactly which type of collar you prefer to your dress shirt. Although, we would recommend choosing a collar that's versatile and works well for different types of occasions. A classic business collar is great to start out with as it works well with or without a tie.
Dress shirts for all occasions
These three dress shirts that we've listed are all extremely versatile, which is perfect when building a great dress shirt wardrobe. Whether you're dressing up for a fancy dinner, going to work or doing something more laid back, you'll have dress shirts that goes well for all kinds of occasions. Style with dark suit pants for a more formal look, or dress down in chinos or jeans for an impeccable casual look.
The best dress shirts to start off with
As mentioned earlier, there are tons of different types of dress shirts out there. However, if you're starting out with just three must-have dress shirts these dress shirts will most definitely do the job. They all work just as well for a more upscale outfit to a more dressed down version.
Feeling inspired? Let's get you dressed in Made to Measure.